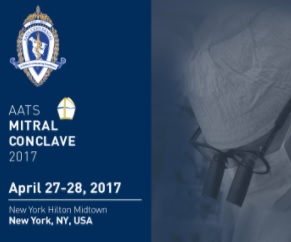 Meet us in New York, US
The 2017 AATS Mitral Conclave continues its tradition as the benchmark meeting in the field of mitral valve disease. The faculty includes over 70 international leaders in the field, and the program features over 200 invited or submitted lectures, abstracts, and video presentations.
During the two day Conclave every topic in mitral valve disease will be covered, with a unique emphasis on technical aspects of reconstructive valve surgery. Six plenary lecture sessions, four expert video sessions, twenty-two breakout sessions, and eight lunch sessions are sure to generate a high energy learning environment as the mitral world comes together for two days.
Experts from Meditrial will attend this conference and we would welcome the opportunity to learn about your product. We will be happy to provide a free consultation regarding your clinical project.
Plan to meet with us! Contact us to schedule a time to meet up.
Location: New York Hilton Midtown Hotel, NY USA