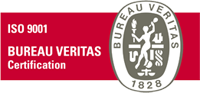 COVERING MORE SERVICES, PRODUCTS AND LOCATIONS
On 20 January 2015, MEDITRIAL has been awarded across-the-board ISO 9001 certification covering more services, products and locations. The certification, which is aimed at evaluating the management systems of a company, analyses the standard of the quality of operations, which is an important criterion for ensuring long-term success.
Since 2008, MEDITRIAL has obtained IS0 9001 certification, with specific procedures set in place to evaluate and improve the company's key processes, and to ensure that customers receive unparalleled service and support.
In April 2014, after successfully passing an audit by Bureau Veritas, world leader in certification, Meditrial was awarded a Certificate of conformity to the ISO 9001 standard covering a growing range of services related to clinical trials, data management, clinical software production and European Authorized representation for medical device companies. A second audit conducted in December 2014 has earned the extension of certification to all branches of the Meditrial group, including Switzerland, Germany and Italy.
Speaking on the occasion, dr. Monica Tocchi, medical director of Meditrial Europe said, "It's a moment of pride for all of us at Meditrial. The group certification process has helped us improve our processes and given greater visibility of projects at any point of time, which in turn benefits our clients. We're incredibly excited about what it means for our future as a company and proud of our entire staff for achieving this important milestone."
With the new group certification, MEDITRIAL confirms our commitment to high-quality service and continuous performance improvement. With the implementation of an integrated Quality Management System, Meditrial has standardized global practices across all of the company's subsidiaries to ensure consistent service and support to a global customer base.