Capture and manage Patient-Reported Outcome data on a centralized platform.
Catchtrial ePRO App facilitates better interaction between the patient, investigator and sponsor. It ensures faster trial completion and significant cost savings. It works with any desktop or mobile device, including Android and Apple iOS.
ePRO allows you to stay in tune with patient health.
Catchtrial ePRO App features
Compliant
No collection of participants' sensitive data (GDPR and HIPAA compliant)
Complete patient data tracking system (ICH/GCP and 21 CFR Part 11 compliant)
Easy and secure patient registration via Catchtrial QR code
Secure
User-friendly ePRO Forms Builder interface (no programming skills required)
Intuitive and engaging user interface
Send/Resend survey invitations
Easily save and persist data
Intuitive
ePRO patient survey forms are easy and simple for patients to fill out
Integrated eDiary for routine automated patient data capture (e.g. daily, weekly, monthly)
Full integration with EDC for real-time desktop access of patient-reported data
---
The interaction between Patient and Clinical Research Coordinator (CRC) hasn't been simpler
Overcome recruitment and consenting challenges by Meditrial proprietary telemedicine-inspired product called Catchtrial eConsent. eConsent allows researchers to obtain informed consent from participants from anywhere using telemedicine technology.
Available for both Android and iOS mobile operating systems, Meditrial eCosent delivers a superior patient experience, optimizing engagement and improving data quality.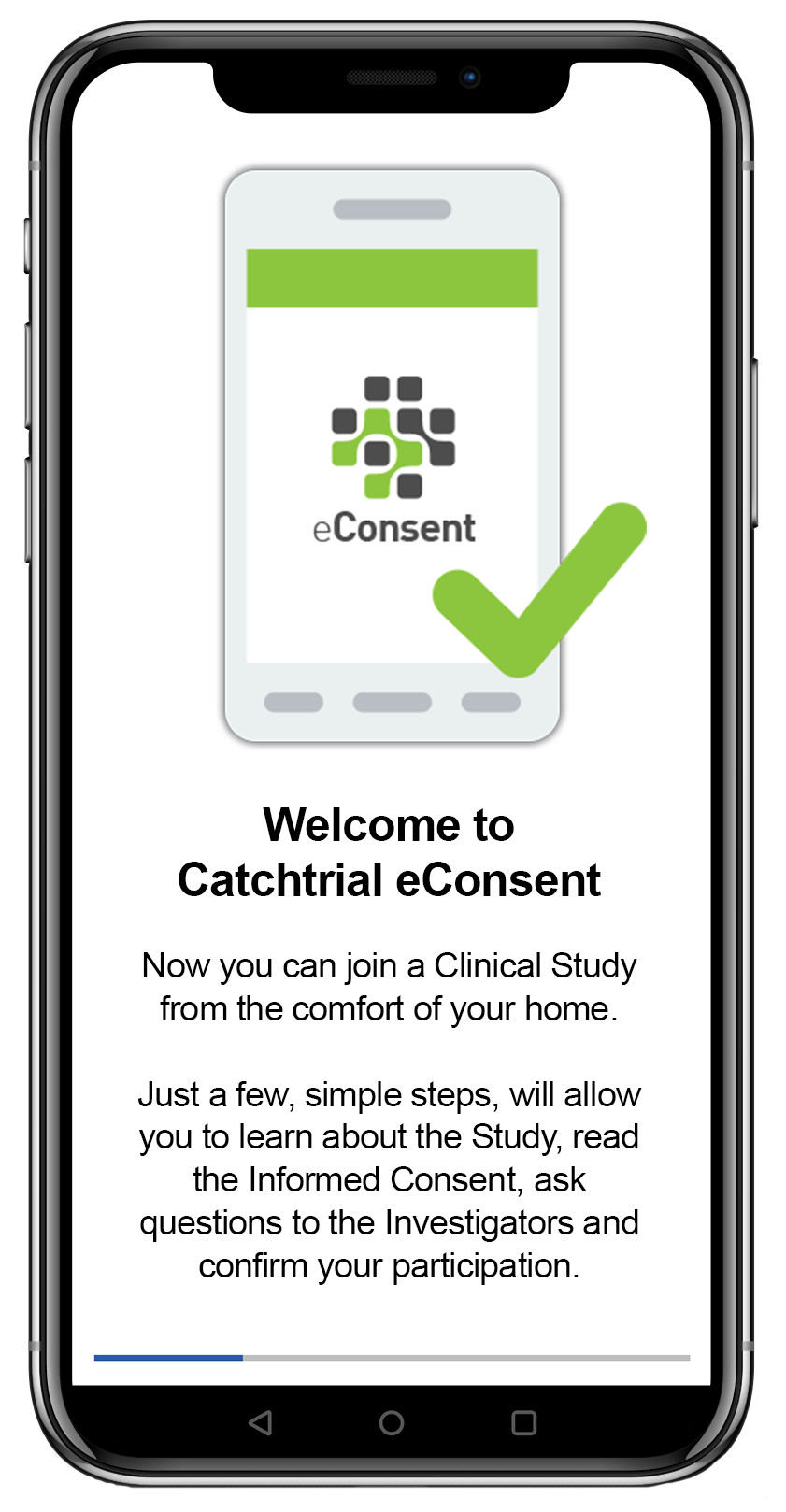 eConsent simplifies the consent process
Providing information to subjects
Evaluating subjects' comprehension of the information presented
Documenting the consent of subjects or their legally authorized representatives (LARs)
Catchtrial eConsent App Features
Customizable landing page for e-Recruitment
Pre-screening survey for eligibility assessment
Video capabilities
Quizzed consent
Audio and video calls
Flexible consent form layout and supporting documents
Multilanguage technology
Complete audit trail (including 21 CFR Part 11)
GDPR and HIPAA compliant
e-Signature based on MFA, biometric signature and third-party certified solution