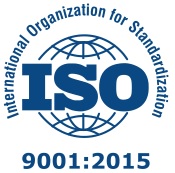 Meditrial Europe reaffirms its commitment to continued innovation and leadership in the field of clinical research and digital data management for the medical device industry, being one of the first and very few CROs to achieve ISO 9001:2015 certification.
Meditrial's independent assessment and certification was performed by accredited UK registrar Bureau Veritas Certification Holding SAS.
"When clients entrust their project to Meditrial, they can be confident that the work will be conducted in accordance with the highest quality standards." said Meditrial's Medical Director Dr. Monica Tocchi.
"It's a seal that guarantees the solid processes governing all aspects of Meditrial's operations," said Meditrial's R&D and Quality Manager Daniele Zago, who coordinated the ISO 9001 certification audit. "The certification is confirmation that all systems are in place to meet clients' expectations regarding cost, delivery time and, most importantly, quality of service."
What is ISO 9011:2015
ISO 9001 is an evidence-based set of standardized requirements designed to enable an organization's Quality Management System (QMS) to meet customer, statutory, regulatory and internal requirements, including quality, cost, and delivery time.
The ISO 9001 standard was created by the International Organization Standardization (ISO) through collaboration with experts from multiple global organizations and is considered a best practice around the world.
ISO 9001:2015, the latest edition of ISO's flagship quality management systems standard, is a worldwide quality standard that helps organizations demonstrate that they offer products and services of consistently good quality.
"All companies certified to ISO 9001:2008 have three years to transition to the new standard due to the complexity of the new requirements," said Daniele Ceccarelli, Meditrial's legal manager. "We are pleased to tell our customers that Meditrial continues to lead the industry in compliance and innovation."
What does it mean for our clients?
Our aim is to achieve the highest performance in clinical trials. This certification reaffirms our commitment to meeting client requirements, upholding the highest quality standards, and continuously improving processes throughout our multinational organization.
A well-structured quality system is critical to the success of sponsors' work. ISO certification provides third party validation of our commitment to a quality-first approach and helps further set Meditrial apart from other CROs.
Certified services
Meditrial's medical device services are certified as conforming to the Quality Management System Requirements ISO 9001:2015. These services include:
Regulatory document development, preparation and submission, including clinical evaluations, literature reviews, Investigation protocols, Investigator Brochures, Risk Management documentation, and Technical Files
Clinical trial design, study management, monitoring, data management and statistical analysis in compliance with ISO 14155
Cloud based digital data management software solutions, Catchtrial and Fastrial
Quality system implementation, training, auditing, and compliance to ISO and CEN standards, and European Union (EU) quality requirements
European Representative Services
General consulting and special projects
About Meditrial
Meditrial is a leading provider of clinical trial services and digital cloud based data management solutions for the medical device industry. Established in 2008, today Meditrial is a trusted expert partner for the more advanced corporations or early start-ups needing support and outsourcing to execute trials in Europe.
Headquartered in Zürich, Meditrial is also active in Berlin, Rome and New York.
Learn more at: www.meditrialeurope.com – www.catchtrial.com – www.fastrial.com.